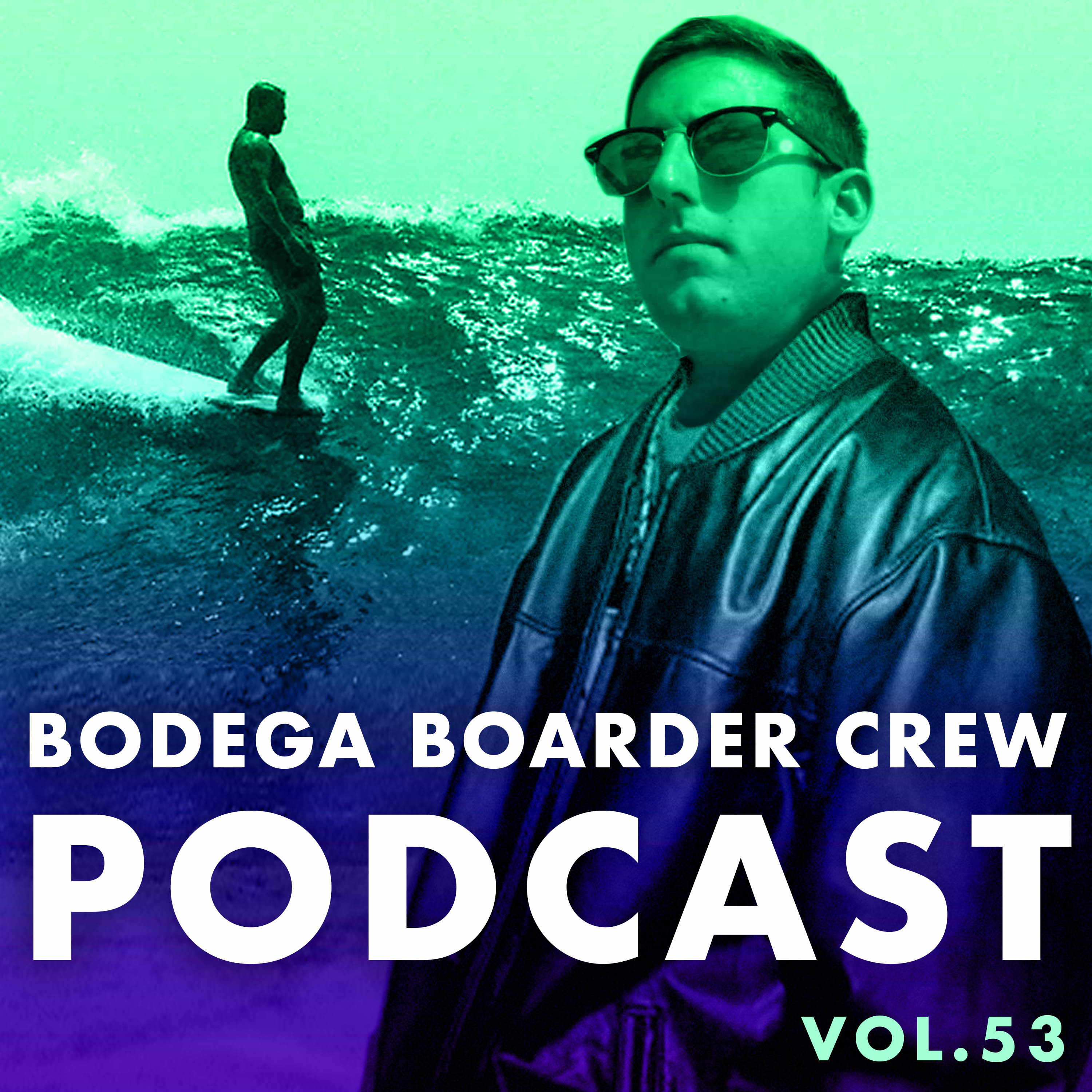 Now part of the Yew Podcast Network
What up you suckas, it's time again for your ear drums to be blown up. This episode we sit down with famed Floridian surfer and #DuctTapeKillah Justin Quintal (@jquinny) and politic about growing up in Florida, competitive surfing and fishing. We also sit down with Mr. Ed Factor from the @hotdoggerchampionship and talk about some of the fresh and hype things he's added to this amazing surf contest. We close this joint out with some short takes about @true_ames, @knostthankyou and @jack_colemang. So sit back, take two and pass...out
Make sure to check us out at https://www.instagram.com/bodegaboardercrew/
Collection available here http://www.bodegaboardercrewstore.com
Sticker packs via bodegaboardergrew@gmail.com
No need to bust a craze on some waves...there's always more during the next swell.
TRACKS PLAYED THIS EPISODE
1. Black Is the Color of My True Love's Hair (Jaffa Remix) - Nina Simone
2. Movin' on Your Weak Productions - Royal Flush
3. Bonafied - Mobb Deep
4. Me Denny & Darryl (feat. Method Man & Cappadonna) - Ghostface Killah
5. Wu Tang Forever ft. Wu Tang Clan - Logic
6. Outtaspacefunkadelic - Doodlebug
7. Reach - Eric Sermon 
8. True MC's - Punjabi MC
9. La belle et le bad boy - MC Solaar
10. Bye bye (Refugee Camp Band Remix) - Memelik
11. Bon Voyage - Deichlind
12. You Can Count On Me - The Reminders
13.  Soft Space - The Jeff Lorber Fusion 
14. Queen B@#$H - Lil' Kim
15. What They Call Me - Rah Digga
16. Cold Rock a Party - MC Lyte
17. Dogg Starr - Ladybug Mecca
19. Let Love Rule (feat. Ravi Coltrane, Jacky Terrasson & Ron Carter) - Ravi Coltrane
20. And I Love Him (LP Version) - Esther Phillips
21. Arroyo - Billy Cobham
22. Rockin' Radio - Tom Browne
Til next time suckas... keep those toes wet #JustTheTip #ToesBeforeHoes
Merch available here http://www.bodegaboardercrewstore.com
and follow us on Instagram https://www.instagram.com/bodegaboardercrew/
Justin Quintal Links
https://www.youtube.com/watch?v=LQ7gz1-3i40
https://www.youtube.com/watch?v=boRwyfIAix0
https://www.youtube.com/watch?v=lHDWDdD0ynI&t=33s
SHORT TAKES:
Welcome to Summer
Alex Knost's Tan Madonna
https://www.youtube.com/watch?v=k8AQDS87Yx8
Zone Frequency from Jack Coleman
PLEASE DONATE NOW:
Help the people affected by Hurricane Dorian right now. 
https://www.wavesforwater.org/donate