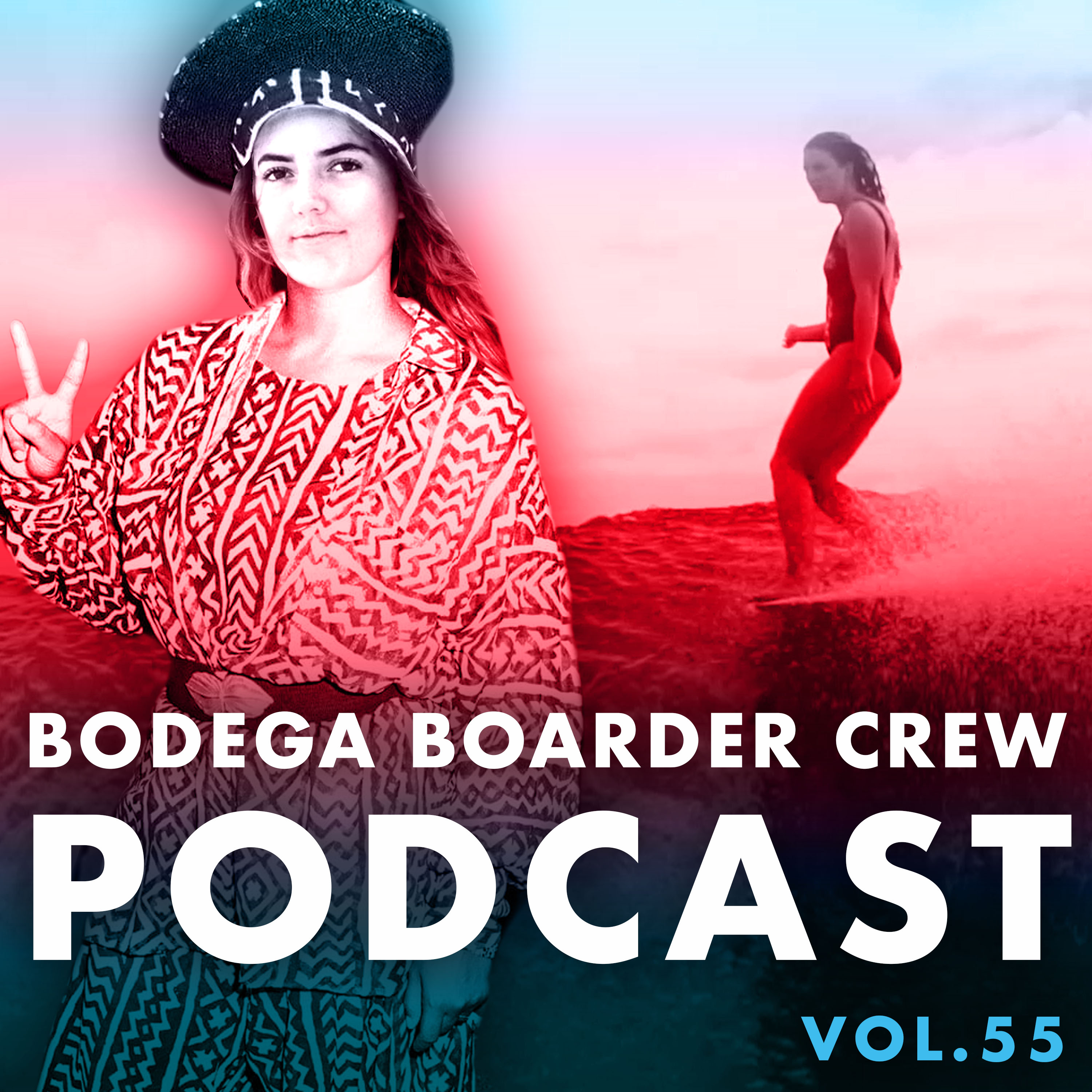 Now part of the Yew Podcast Network
What up yo, we got a double dose of dopeness this episode. Two banging interviews for the price of one. First we sit down with Roisin Carolan (@roro.carolan) and talk about growing up in Australia, @mctavishsurf and her new culinary career. Second we sit down with French surf photographer Thomas Lodin (@thomaslodin) and talk about his start in BMX photography, his new book and stepping into film making. We also got some short takes this episode with @robotsfrom, the Japan edition of the @vansducttape and a little clip of @barrettmiller_ by @tatsuo_takei for @nobody_surf. The tracks this episode are more on the instrumental side and a sick ass left turn from the usual so we hope you dig them. 
Make sure to check us out at https://www.instagram.com/bodegaboardercrew/
Collection available here http://www.bodegaboardercrewstore.com
Sticker packs via bodegaboardergrew@gmail.com
No need to bust a craze on some waves...there's always more during the next swell.
TRACKS PLAYED THIS EPISODE
1. Hikky-Burr (Instrumental) - Dan The Automator
2. Cosmic Assassins (feat. Mix Master Mike & Vinroc) - Mix Master Mike
3. Street Fighter Mas - Kamasi Washington
4. Night Whistler - Donald Byrd
5. Koala's Lament (Instrumental) - Lovage
6. Time Moves Slow (feat. Sam Herring) - BADBADNOTGOOD
7. Inner City Blues - George Benson
8. Soul Sauce (Fila Brazilia Remix) - Cal Tjader
9. Tin Flower - RJD2
10. Fried Neck Bones and some Home Fries - Dan The Automator
11. What It's All About - J The Sarge
12. OverThrone - Dama The Fudgemunk
13. Collector's Item feat. Grap Luva (Vocal) - Pete Rock
14. Super Strut - Deodato
15. Hung Up On My Baby - El Michaels Affair
16. Dots - DJ Premier
17. Song 2 - DJ Krush
19. Squares - The Beta Band
Til next time suckas... keep those toes wet #JustTheTip #ToesBeforeHoes
Merch available here http://www.bodegaboardercrewstore.com
and follow us on Instagram https://www.instagram.com/bodegaboardercrew/
Roisin Carolan Links
https://www.youtube.com/watch?v=Xe4KcUXfC8o
Thomas Lodin Links
http://thomaslodin.com/impressions-book
https://www.youtube.com/watch?v=61JXdZeLOvI
SHORT TAKES:
It's Your Island from Robots From
Duct Tape Invitational in Japan
https://www.youtube.com/watch?v=Ky17VYVG4Jw&t=499s
https://www.youtube.com/watch?v=NbvHqlxZtK8&t=66s
Barrett Miller for Nobody Surf Originals