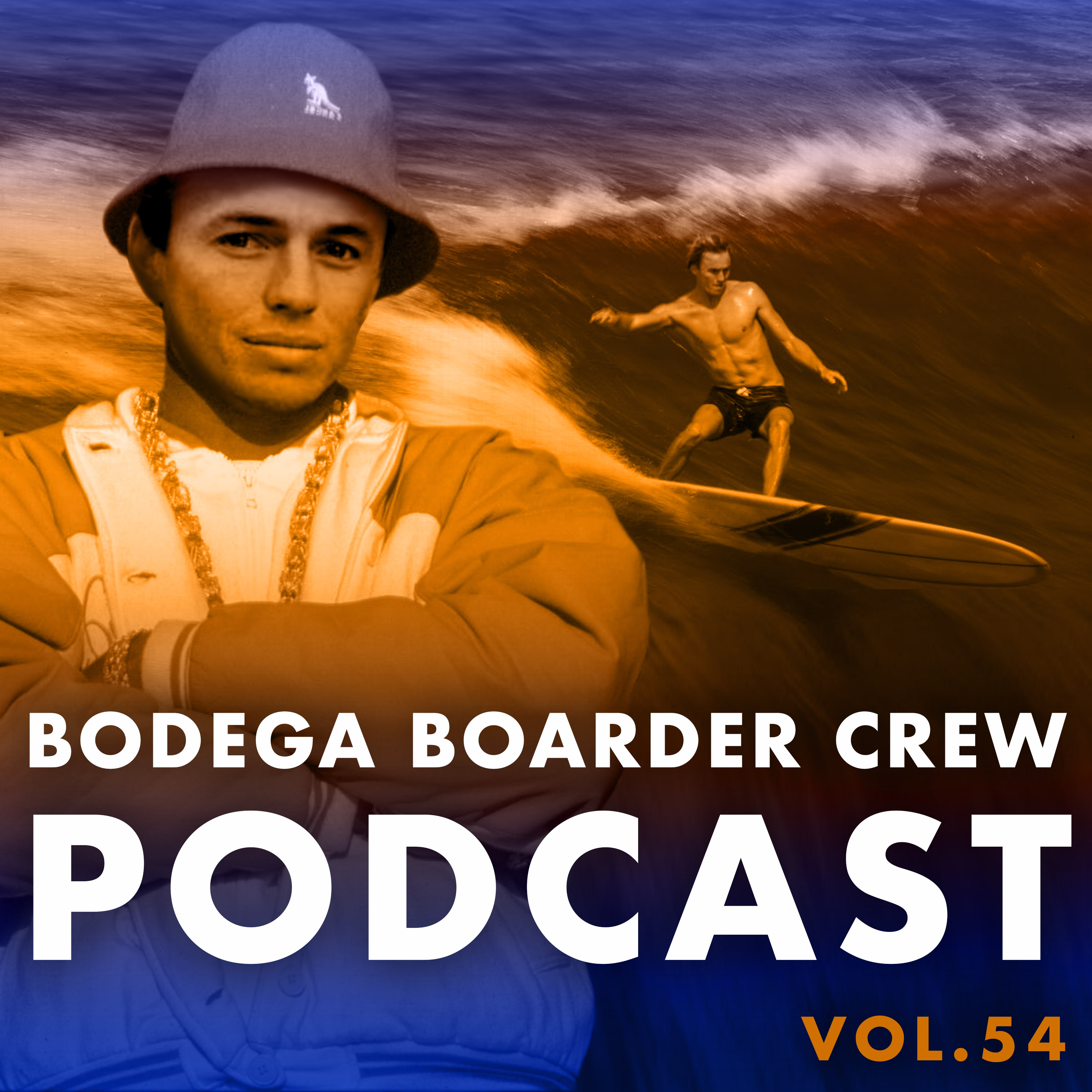 Now part of the Yew Podcast Network
Coming to y'all with a special ode to NYC thanks to the @vanssurf #DuctTapeInvitational. On this joint we sit down and politic with men's division winner Harrison Roach (@harrisonsan) about growing up in Australia, first surfboards, the finance of competing and is there a magic board. We also recap what went down during the Duct Tape Invitational in Rockaway and talk with the guys from @goldenstateglassing, Jeff from @truehands and women's division winner @kirraseale. We wrap this funk joint up with some short takes from Max Weston (@middlesizemonster), @deflowsurf and @hangtenmagazine. All tracks are some classic NYC bangers thanks to our hometown for inspiration. We love you NYC.
Make sure to check us out at https://www.instagram.com/bodegaboardercrew/
Collection available here http://www.bodegaboardercrewstore.com
Sticker packs via bodegaboardergrew@gmail.com
No need to bust a craze on some waves...there's always more during the next swell.
TRACKS PLAYED THIS EPISODE
1. N.Y. State of Mind - Nas
2. Niggas - Notorious BIG
3. Sound Bwoy Bureill - Smif N Wessen
4. Brooklyn Took It - Jeru
5. How Many MC's... - Black Moon
6. The Boomin' System - LL Cool J
7. Sons of 3rd Bass - 3rd Bass
8. Bo! Bo! Bo! - Boogie Down Productions
9. Taxing - Special Ed
10. Warm It Up, Kane - Big Daddy Kane
11. Brooklyn Zoo - Old Dirty Bastard
12. Ape In His Apex (feat. Ruste Juxx) - Sean Price
13. Thang Thang - Wu-Tang Clan
14. Twelve Jewelz - Gravediggaz
15. Heaven & Hell (feat. Ghostface Killah) - Raekwon
16. Verses from the Abstract - A Tribe Called Quest
17. North South East West (Remix) - Black Sheep
19. Let the Funk Flow - EPMD
Til next time suckas... keep those toes wet #JustTheTip #ToesBeforeHoes
Merch available here http://www.bodegaboardercrewstore.com
and follow us on Instagram https://www.instagram.com/bodegaboardercrew/
Harrison Roach Links
Duct Tape Invitational Links
SHORT TAKES:
O'neill Australia video on surfer/scientist Max Weston
Clovis Donizetti and Margeux Arramon-Tuco by Deflow
The Galicia Series from Hangten Magazine
Featuring Devon Howard, Matt Chonacki, Chloe Calmon and Christian Stutzman