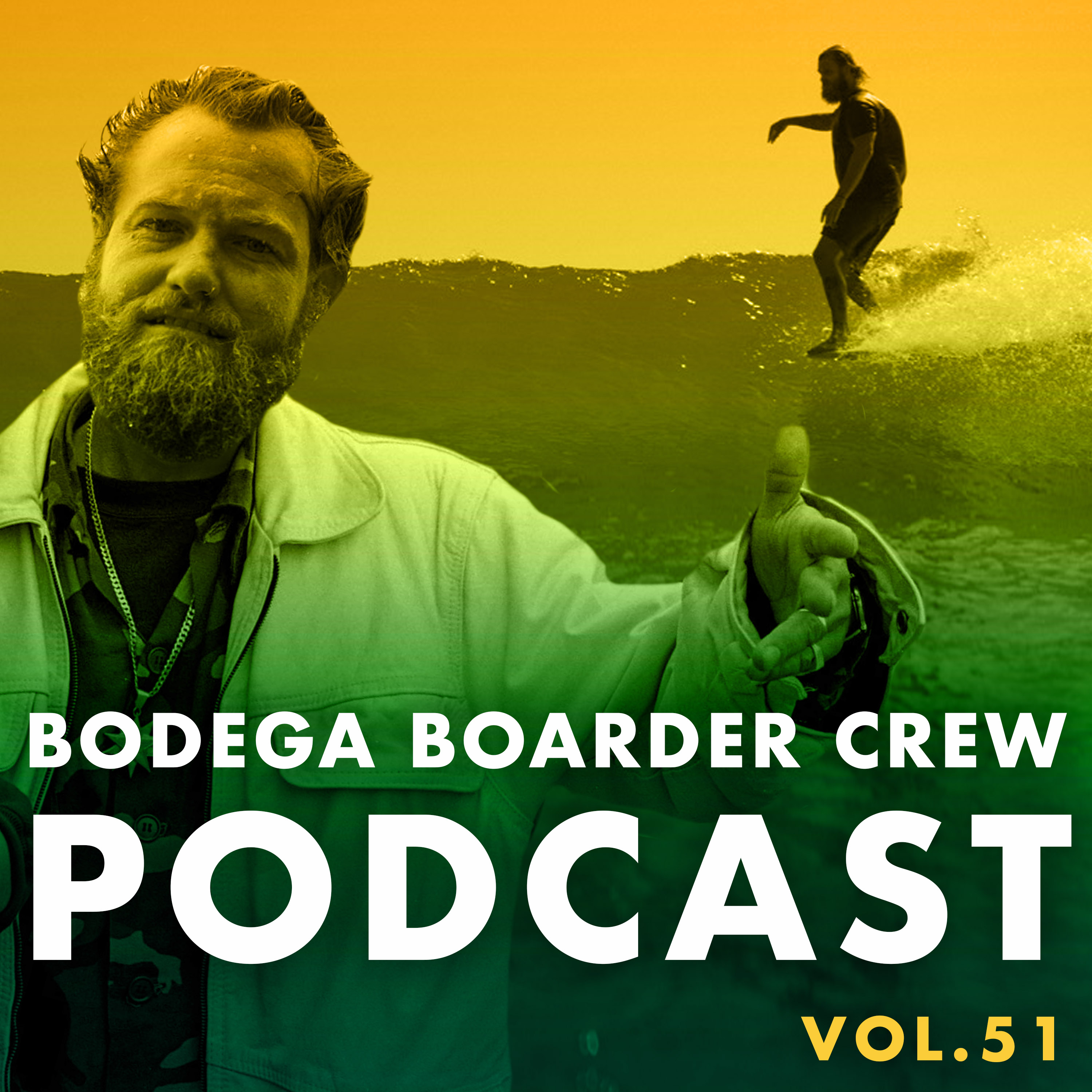 It's been a minute for sure but we are back. After a bit of a hiatus we are back with a banger of an episode. We sit down with our homeboy Thomas Bexon (@thomassurfboards) and politick about shaping, rider feedback and involvement style longboarding. We also do our yearly catch up with our boy Kris Chatterson of @hulloholic fame and talk about what he gets out of the #TheBoardroomShow. Lastly we have a couple of short takes with @howlerbros, @hangtenmagazine and the Nine Foot and Single event by @deustemple. So sit back and we are glad to be back in your eardrums yo.
This episode is brought to you by our homies over at Nicaragua Craft Beer
Make sure to check us out at https://www.instagram.com/bodegaboardercrew/
Collection available here http://www.bodegaboardercrewstore.com
Sticker packs via bodegaboardergrew@gmail.com
No need to bust a craze on some waves...there's always more during the next swell.
TRACKS PLAYED THIS EPISODE
1. Syeeda's Song Flute - John Coltrane
2. Apartheid (feat. Buckshot & General Steele) - Sean Price
3. Savagely Attack (feat. Ghostface Killah) - Czarface
4. Ray Gun (feat. MF DOOM) - BADBADNOTGOOD
5. True Endeavors - Del The Funky Homosapien
6. Bubbles - Herbie Hancock
7. D-I-A-M-O-N-D - Diamond D
8.  'Bout That Time - Large Professor
9. Right way (feat. Group Home) [Street Orchestra Remix] - Beat Society & Grand Agent
10. One Beer - MF Doom
11. Roller Coaster Riders (Instrumental) - Madvillian
12. Bird Calls - Charles Mingus
13. True Blue - Tina Brooks
14. Funky Broadway - Jimmy Smith
15. Desert Nights - Lonnie Liston Smith
16. Door of the Cosmos - Sun Ra
Til next time suckas... keep those toes wet #JustTheTip #ToesBeforeHoes
Merch available here http://www.bodegaboardercrewstore.com
and follow us on Instagram https://www.instagram.com/bodegaboardercrew/
Thomas Bexon Links
https://www.thomassurfboards.com/
https://www.youtube.com/watch?v=gc6wDH_ZjKg
https://www.youtube.com/watch?v=rw5eWdZLeuQ
SHORT TAKES:
El Patron from Howler Bros. about Izzy from Mexilogfest
Wheels & Waves Invitational video from HangTen Magazine
Deus 9ft and Single
https://www.youtube.com/watch?v=U0u3qvxe9Vo
https://www.youtube.com/watch?v=-z3AM8WHQo8