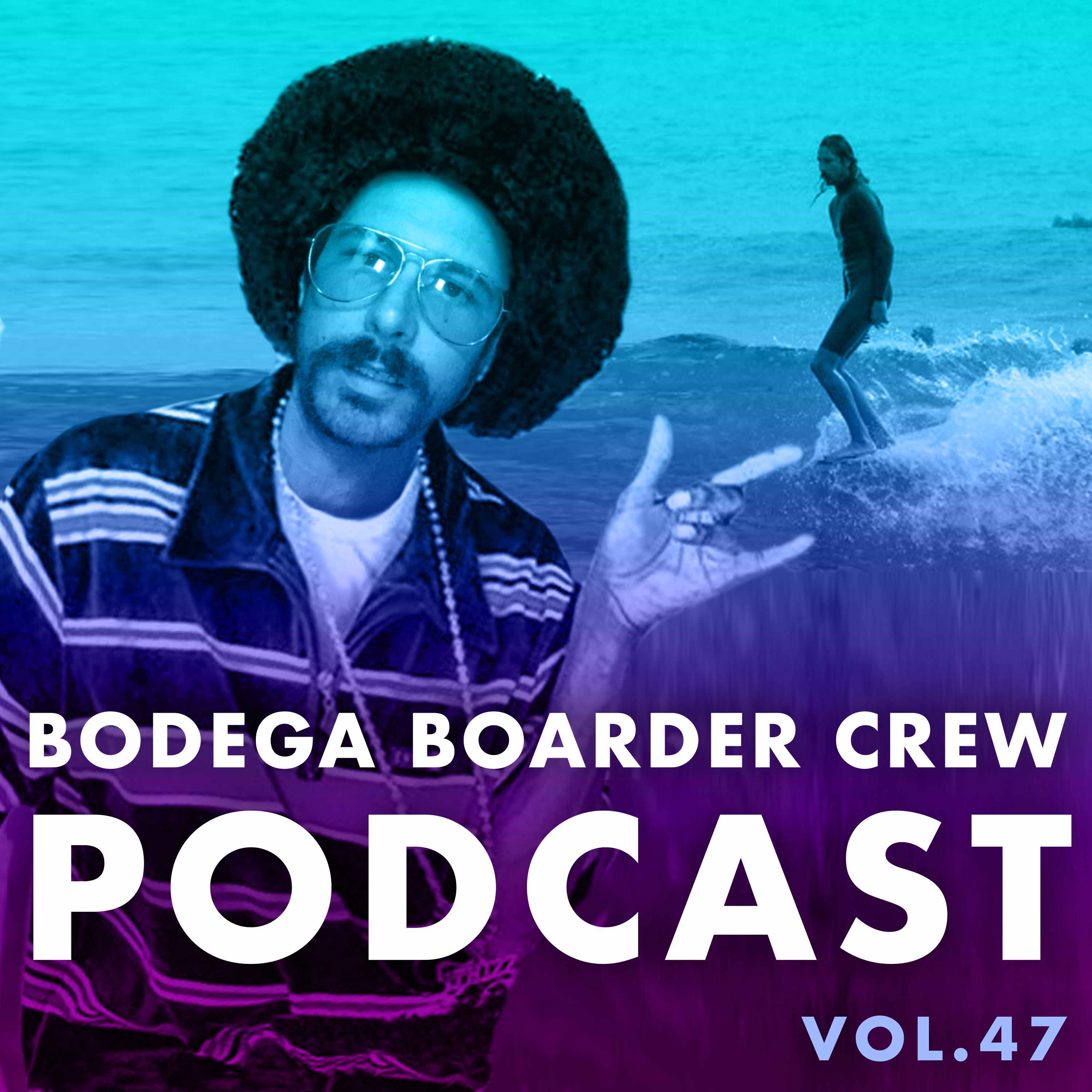 Now part of the Yew Podcast Network
We took a little time off but we are back and funkier than ever. This episode we sat down with Evan Daley (@daley_tripper) of Gato Heroi Surfboards (@gatoheroi) and politic about growing up away from the coast, learning to produce boards and what kind of shapes he's digging now. We also drop some short takes with @daydreamsurfshop, @mollusksurfshop and the @vanssurf #DuctTapeFestival in Waikiki. Thanks to Evan for picking some tracks and taking you on a weird ride for the next 2 hours.
This episode is brought to you by our homies over at Nicaragua Craft Beer
Make sure to check us out at https://www.instagram.com/bodegaboardercrew/
Collection available here http://www.bodegaboardercrewstore.com
Sticker packs via bodegaboardergrew@gmail.com
No need to bust a craze on some waves...there's always more during the next swell.
TRACKS PLAYED THIS EPISODE
1. Benzi Box - Danger Doom
2. Boss Tycoon - Mac Dre
3. Corpse Came to Dinner - Brotha Lynch Hung
4. Wut Would You Do (feat. Dirty Red) - Eazy E
5. Spit Your Game (feat. Twista and Bone Thugs-N-Harmony) - Notorious B.I.G. 
6. Blind Leading the Blind - Geto Boys
7. Teasin' - Cornell Dupree
8. Leatherface - Big Punisher
9. Fast Shadow - Wu-Tang Clan
10. Execute Them - Inspectah Deck, Masta Killah & Streetlife
11. Never Seen Before (Remix) - EPMD
12. Down the Line - Nice and Smooth
13. Discipline - Gangstarr
14. Bring the Noise - Public Enemy
15. Ain't Nothing To Fuck With - Wu Rocks
16. Street Reaper - R.I.P. 
Til next time suckas... keep those toes wet #JustTheTip #ToesBeforeHoes
Merch available here http://www.bodegaboardercrewstore.com
and follow us on Instagram https://www.instagram.com/bodegaboardercrew/
EVAN DALEY LINKS:
https://www.youtube.com/watch?v=hqN0BSwdu-0
SHORT TAKES:
Case Study 001 : Marc Andreini
https://itunes.apple.com/us/podcast/daydream-surf-shop/id1447031822
Shapers Deluxe
The Vans Duct Tape Festival Waikiki
https://www.youtube.com/watch?v=bBtoeUKfKfk