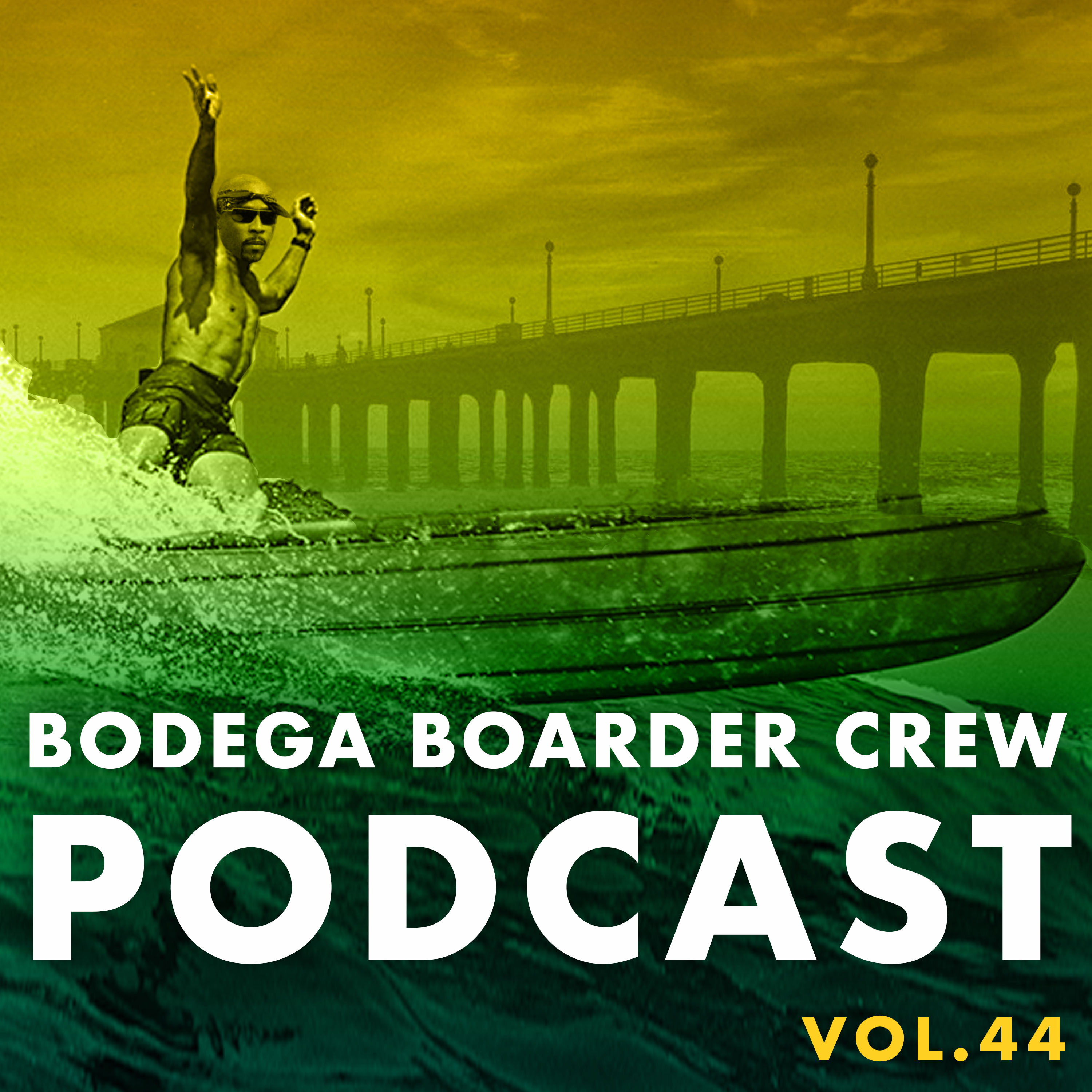 It's that time of year Y'all, the Hotdogger Championship (@hotdoggerchampionship) is back! We sit down with Ed and talk about the history of the event and what's the 411 this year. I politic about local activism and how to get involved to help your communities and diversify your time. Lastly we got some short takes with the #VieuxBoucausurfClub, a video @theinertia put out with our homegirls @lolamignot, @leahloves & @kassiasurf and lastly a video from @resincraft featuring @nathanstrom_. So sit back and spend the next 2 hours getting into some illmatic surf knowledge and tracks hand picked for the people...who dis?
This episode is brought to you by our homies over at Nicaragua Craft Beer
Make sure to check us out at https://www.instagram.com/bodegaboardercrew/
Collection available here http://www.bodegaboardercrewstore.com
Sticker packs via bodegaboardergrew@gmail.com
No need to bust a craze on some waves...there's always more during the next swell.
TRACKS PLAYED THIS EPISODE
1. 4th Chamber (feat. RZA, Ghostface Killah & Killah Priest) - GZA
2. G.U.R.U. - Group Home
3. Hellraiser - The Beatnuts
4. World Peace - Lil Dap
5. Explode - Rasheed Hadee
6. If Time is Money (Fly Navigation) [feat. Method Man] - Wu Tang
7. Sofa King (feat. MF DOOM) - Danger Doom
8. Six Pack (feat. Nikki D & Rah Digga & Bahamadia & Precious Paris & Heather B) - Nikki D
9. Letters - DJ Polo & Kool G Rap
10. All We Got Iz Us (Evil Streets) - ONYX
11. The Interview - Artifacts
12. Getting Up Anthem, Pt. 1 - Rakim and Talib Kweli
13. Tell the Devil Ha! - KRS One
14. Wrekonize - Smif -n- Wessen
15. Give It to Me Baby - Rick James
16. All Night Long - Mary Jane Girls
17. Son of Slide - Slave
Til next time suckas... keep those toes wet #JustTheTip #ToesBeforeHoes
Merch available here http://www.bodegaboardercrewstore.com
and follow us on Instagram https://www.instagram.com/bodegaboardercrew/
Hotdogger Championship Links 
https://www.facebook.com/events/680987362258789/
Activism Links:
https://www.sanonofresurfco.com/products/just-say-no-nukes
https://www.changingtidesfoundation.org/
SHORT TAKES:
Vieux Boucau Longboard Classic 2018
Alternativa
https://www.theinertia.com/surf/alternativa-kassia-meador-leah-dawson-and-lola-mignot-are-building-bright-future-for-womens-surfing/
ResinCraft clip featuring Nathan Strom