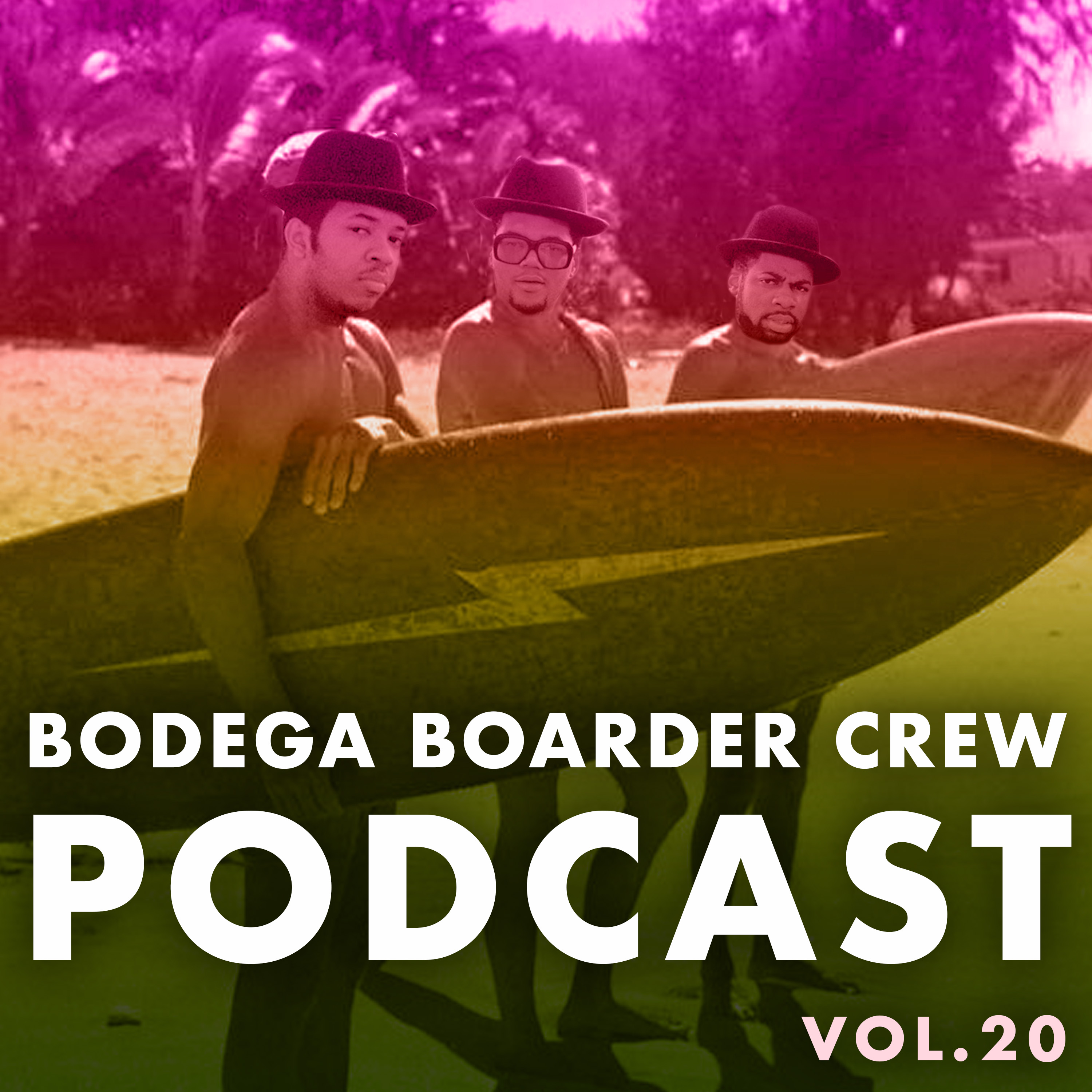 What up fam, we are back from our stint on #TheNorthShore. This episode is a bit different than most of our usual steez. This time around we reminisce about our time out there. We also ask a few people who live there what's the 411 with them and how they feel their hood has changed. Lastly we end on a sad note about the recent tragedy that the Emery family went through, how it's effected the community there and how you can help. But enjoy our time back with some sleeper tracks and some jazzy vibes to remind you of those Kammie Land sunsets and illmatic Mai Tais.
Make sure to check us out at https://www.instagram.com/bodegaboardercrew/
Merch available here http://www.bodegaboardercrewstore.com
Sticker packs via bodegaboardergrew@gmail.com
No need to bust a craze on some waves...there's always more during the next swell.
TRACKS PLAYED THIS EPISODE
1. The Purple Tape (Instrumental) - Method Man
2. High Rollers - Ice T
3. The Boomin' System - LL Cool J
4. Beats to the Rhyme - Run D.M.C.
5. Caught, Can We Get a Witness - Public Enemy
6. Got My Mind Made Up (feat. Dat Nigga Daz, Kurupt, Method Man & Redman) - 2 Pac
7. Blue Train - John Coltrane
8. Jettin' - Digable Planets
9. Bonita Applebum - A Tribe Called Quest
10. I Love You Mary Jane - Sonic Youth & Cypress Hill
11. That's When Ya Lost (feat. Pep Love) - Souls of Mischief
12. Above the Clouds - Gang Starr
13. Party (Instrumental) - The Beatnuts
14. I Can't Go To Sleep - Wu-Tang Clan
15. Tha Crossroads - Bone Thugs n Harmony
Til next time suckas... keep those toes wet #JustTheTip #ToesBeforeHoes
Merch available here http://www.bodegaboardercrewstore.com
and follow us on Instagram https://www.instagram.com/bodegaboardercrew/
HELP A FAMILY IN NEED   
Please help the Emery family rebuild their lives after the los of their wife & mother. Every little bit will help them get through this horrile experience that will change their lives and change the spirit of the community. Rest in peace Telma, you will be missed more than you know.
https://www.gofundme.com/support-Makana
PLACES WE LOVE
 Below are links to all the businesses we love on the North Shore.
https://www.facebook.com/rajaneethaihaleiwa/
http://www.sunriseshackhawaii.com/
http://www.giovannisshrimptruck.com/
https://www.yelp.com/biz/kahuku-land-farms-stand-kahuku